Automatic Free Upgrades
The software automatically notifies you of any new updates, so you'll be the first to have all the latest features!
Software Support
​Have peace of mind knowing your software is 100% protected.
Take a look at what's new:
DynaROM Features:
Generates graphics showing patient position, making interpretation and understanding simple.
Interpretation report* templates turns 30 minute interpretation into a 5 minute task.
Customize Interpretation templates; use your own logo, signature and verbiage.
Includes "normal" graphs to place side-by-side with patient's for easy explanation to patients, attorneys and juries.
Online interpretation service: For those who prefer leave the reports & depositions to the experts.
*Interpretation report requires word 2010 or newer. Word 2007 is unsupported and may not function.*
ScanVision Features:​
No app needed! Text or email your patients "E-Scan" instantly. HIPAA compliant and formatted for any smartphone, tablet or computer.
Each test is embedded with your own E-Biz Card. Customize the E-Scan Image with your practice contact info. Patient's market your practice by sharing their scan to friends & family.
Fully customizable, embed messages for screenings, special events and services you offer.
"CC" email feature collects email addresses for future email marketing campaigns.
EP Stress Score: Provides a summation of all electrical activity to easily track patient progress with a numerical value.
Overlay exams and show progress over time.
Switch between Dual and Single scan mode in an instant.
Side-by-side feature with screen drawings allow you to easily explain injuries to attorneys, judges and patients.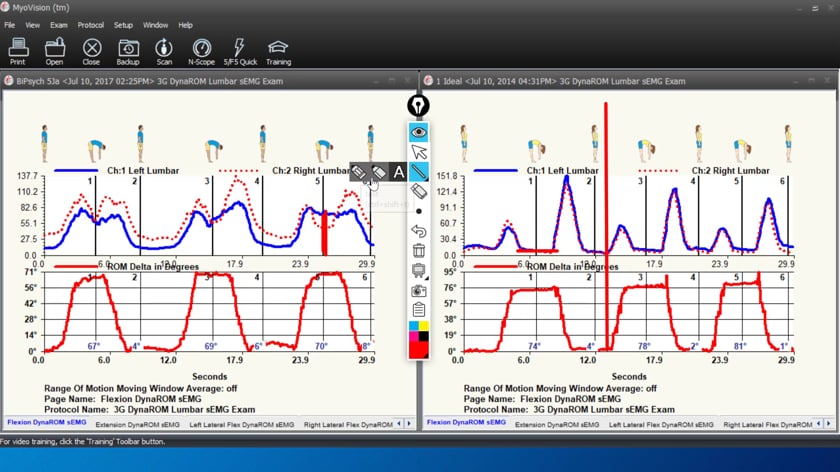 NEW! Online Interpretation Service:
A stress free PI Practice in 2 simple steps! Let our experts do the interpretation for you. You will have peace of mind knowing our team will handle the medical-legal for you, including deposition.
How to use the Interpretation Service:
2
Enter your information, and hit SEND.
Your report is sent to our HIPAA compliant email server and interpreted by our expert. Yes, it's completely legal and you can still bill with 96002 & 96004.
DynaROM Templates:
We are calling our latest DynaROM report template more visual, but does not take away credibility. Easy for doctors to interpret, and easy for patients, attorneys and juries to understand.
NEW! PCP Report demonstrates expected ideal and injury results graphically, making it easy for everyone to understand.
PCP Report simplified to ONE drop-down question per motion! Cuts time significantly; simplifies findings.
NEW! PCP Report presents patient and ideal side-by-side for quick, obvious proof of injury or lack of injury.
After using the new DynaROM PCP report, I received a call from a surgeon for the first time in my 30 year career. He told me he had no idea Chiropractors were using tools like this; my DynaROM report data matched his physical exam. That one phone call was worth more than triple the cost of my machine. DynaROM makes my job easier, gives me bullet proof clinical confidence in my findings and I get the respect I know I deserve.
​- Dr. LA, Michigan
Impress PCPs and receive referrals through new graphical PCP Report!
Who do PCP's send their PI patients to? The doctor who can provide data to support their analysis accurately. With DynaROM, that means YOU. Simply send your PI patients to their PCP with their report, include in their medical records, and your instant credibility will be established.
Download Sample PCP Report that lead to $260K settlement with offer of $1K.
Entirely invalidated expert reports from 4 of most famous IMEs in State.
NEW! ROM Graphics – simple & clean.
E-Scan: The Most Powerful Marketing Tool
E-Scan is all about THEM. No more generic pamphlets or empty endorsements that just go in the trash. You'll send them their personalized scan with your clinic information embedded!
It's your personal E-Biz card they'll want to send to family and friends. Let's say your patient goes out to lunch after seeing you; you can bet they will be forwarding their test data with your embedded contact info to their friends and family, showing off their high-tech doctor. INSTANT REFERRALS FOR YOU. They're even posting it on Facebook!
Quick look: other recent upgrade features you may have missed:
· 5 Minute graphical PCP Report leads to referrals from the patient's PCP
· EHR Integration
· Digital Range of Motion
· Automatically exports scans as JPG images
· Copy & paste – insert scans safely into emails, word documents, etc. (HIPPA compliant)
See more features of the latest update:
Additional features for ScanVision Users:
EP Stress Score Features: Simplifies Static sEMG with single number!
Provides a summation of all electrical activity measured with the MyoVision Static-sEMG exams.
Tracking patient progress with a numerical value.
Able to overlay pre and post exams to show progress over time.
Easily educate patients without having to explain the values at each site.
Simple design makes it easy to use
Wire-Free! Conduct tests from up to 50 feet away!​
Complete a single test in seconds
Keeps patients focused on functions, not symptoms
Your patients will overcome skepticism from friends & family regarding Chiropractic care
E-Scan Features: Smartphone marketing made easy using email
Instantly send Static-sEMG and/Range of Motion graphic instantly to patients so they can show friends, family and co-workers why they need their doctor.
"CC" email feature collects email addresses for future email marketing campaigns.
No app needed! Using email makes E-Scan viewable via smartphone, tablet and computers.
Patient's market your practice by sharing your e-business card every time they show friend & family their scan. They'll help promote your office.
E-Business Card embeds whatever info you want, including links or your contact info, advertising your practice with each E-Scan sent.
Personalize embedded message for screenings, special events and services you offer.
Go Green! Save hundreds on paper and ink each year.
Previous Software Features:
New body graphics can be configured for both male and female patients.
Scans 3x faster with the updated Auto-Scan feature and newly custom controlled device settle times.
Battery life increased by 4x over previous versions with a new battery timeout feature.
Updated GUI (Graphic User Interface) for a new sleek modern look.